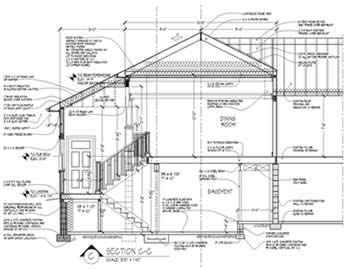 Design Development and Bid Set of Construction Drawings
Following review of Preliminary Design Documents, the design is further developed. We continuously incorporate refinements to the floor plans and exterior elevations as discussed in additional plan review meetings with the Client. We then include additional information on the drawings such as building materials, lighting layout, fixture and finish selections also enable the contractors to estimate the construction cost.
The design can also be developed three dimensionally. This enables Clients to better visualize their project. This 3D design is further updated in response to Client comments and final exterior color and finish selections.
Requirements for electrical work, plumbing and selections of building materials, Mechanical System Performance Requirements, are determined at this time for inclusion in the Bid and Permit Set of Construction Drawings. This helps to provide a more complete and comprehensive bid, eliminating vague allowances, which often result in limited control over extra costs during construction.
A Base Set of Bid and Permit Construction Drawings typically includes:
Site plan
Floor plans
Exterior building elevations
Foundation and roof framing plans
Detailed building sections and construction details
Lighting plan and smoke detector layout requirements
Mechanical systems layout and performance requirements
Code compliance data