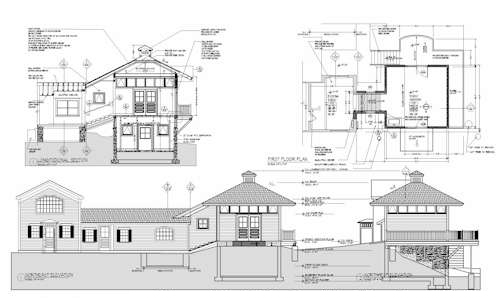 Bidding and Contractor Negotiations
Our Clients typically bid out their proposed construction projects to several General Contractors in order to obtain a competitive bid cost proposal. The Client then selects the Contractor they are most comfortable with. The Client can benefit from having one construction company responsible for the complete construction of their project.
Prior to the bid, many of our Clients will purchase some materials for their projects directly or intend to do some of the work. In this case, we will identify materials to be provided by the Client and installed by the Contractor in all drawings. Identifying these materials up front to the Contractor credits them to the Client appropriately during the competitive bid process.
Some of our Clients choose to act as or work with a Construction Manager, where they bid out portions of the project to a variety of Sub-Contractors. This approach requires a major time commitment from both the Client and the project's Construction Manager.
We assist our Clients by preparing a list of qualified Contractors to bid on the project. Our services for this phase of the project can include:
Issuing bid sets of construction drawings and specifications to the Contractors
Answering Contractor questions regarding the bid documents and issuing clarification if required
Evaluating the bids and potential project modifications following the Client's receipt of bids from Contractors
The Client then selects a Contractor with whom they would like to work. Any modifications to the bid set of construction drawings are reviewed and incorporated into the construction cost. The Contractor typically prepares a contract for the Client's review. This contract should reference the permit and construction set of drawings as prepared by Aurora Architectural Design, P.C.